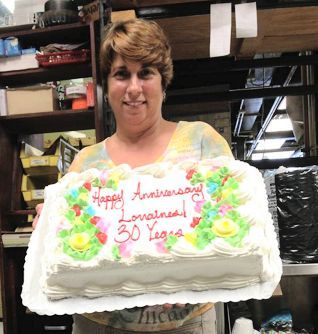 Lorraine Serpe is a Rochester woman who has shown outstanding merit in both her professional and personal life. Serpe, of "Lorraine's Food Factory" on Culver Road is one of the city's most prestigious business owners. Known for her quality catering service, unmatched sandwiches and salads and convenient, yet healthy frozen meals, Lorraine Serpe is one of Rochester's finest assets.
Born and raised in the 19th Ward, Serpe's flair for all things culinary was ignited when she began cooking for the faculty at St. Agnes High School-where she graduated from in 1978. The story of a legendary career in the food and entertainment industry that has spanned across three decades began simply enough. Perhaps it was sheer kismet that a hairdresser suggested Serpe prepare and deliver her scrumptious sandwiches to her co-stylists. After administrating an eight question survey to various businessmen, Serpe noted a high demand for both quality lunches and catered board meetings. She took it upon herself to continue preparing and delivering her sandwiches to local businesses and organizations by day while maintaining a second job in the evening.
"I am the type of female who loves a challenge; all you have to do is challenge me in life and I could guarantee I would succeed", said Serpe. Serpe discovered the secret to lasting success upon reinventing herself. "People were making presentations and selling their million dollar wares and bringing us in since we were the higher end type of caterer, said Serpe.
In due time, Serpe went from seizing local opportunities as a breakfast, lunch and dinner caterer to collaborating with famed artists and celebrities like Chuck Mangione. This led to the creation of "Lorraine's Coastal Catering" and thereafter the establishment of her entertainment –based business.
"Over the course of twenty-five years in the entertainment business, I could tell stories about John Denver, feeding Frank Sinatra or Mariah Carey, among other groovy people," said Serpe.
Then came a full-service restaurant. "In 2006, God spoke to me at four o'clock in the morning and said, 'seniors', so I started pacing," recalled Serpe. Focusing on the promotion of health, she developed frozen gourmet entrees, specifically designed for people with diabetes, high cholesterol, high blood pressure and heart disease in mind. "I have to tell you that I am keeping seniors in their homes," said Serpe. The meal packages are also cost-effective. There is even a special promotion: if a customer wishes to purchase six meals, they receive one or free. The array of deliciously prepared meals includes scrumptious shrimp scampi, mouth-watering gourmet meatloaf, and succulent salmon cakes – all under ten dollars!
Whether she is dealing with Fortune 500 members or grandiose shows at the Blue Cross Arena, you can be certain Lorraine Serpe is on the cutting edge of the food industry.
"The key to my success was being a renaissance woman, reinventing myself and going with the times," said Serpe, who as a woman, has prevailed over her fair share of struggles in a "man's only world." "I love to see female success stories because it is hard and it is especially hard to be a female in the food service and entertainment industry," she stated. Pushing has helped her get ahead. "There are gives and takes in business and you have to have the drive and energy to do it so if people slam the door in your face, you fight harder," said Serpe.
Serpe emphatically embraces the notion that her legendary business will run in the family for decades to come. She has worked diligently to have her name be among the most coveted in the field. "I am going strong thirty years and with two children so maybe one will want to continue doing it," said Serpe hopefully.
For women who presently share a similar ambition to her own, Lorraine Serpe offers some valuable advice. To get started, she encourages women to research their idea and see if there is a demand. "Figure out all the numbers before you get in too deep and know that you have to be dedicated," said Serpe. "No matter what happens, never give up," charged Serpe.
The narrative of working from the ground up is one of our nation's most beloved stories. From the day she graduated from college, Serpe followed her dreams and opened her business. "I am the true American dream," said Serpe.